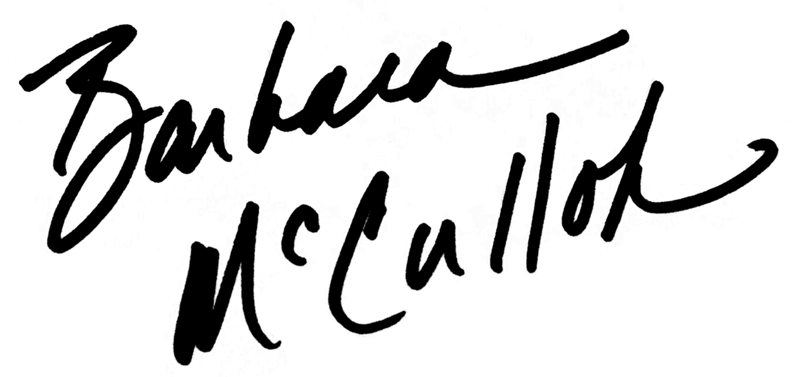 A dynamic and extraordinary actress ... Barbara McCulloh ... has style and panache not just in spades, but in no trump. And no one will trump her all night long.

New York Times
Expressive and engaging, McCulloh is the attractive center and spark plug of the production.

Philadelphia Inquirer
The incomparable Barbara McCulloh is Anna ... She's lovely, and she has a beautiful voice.

Sacramento Bee
Never seen her range of emotion more powerful ... the voice of an angel, and here combines that with a deep seated yearning for love that will bring mist to your eyes.

Bristol Courier Times
Barbara is currently performing at the Public There in NYC in the new satirical comedy Made in America.  Click here for information.
Most recently, Barbara has performed in the Philadelphia area in The Wizard of Oz and Jerry's Girls for the Walnut Street Theatre and Bus Stop for the Bristol Riverside Theatre. In the past few years, Barbara starred as Anna in The King and I on Broadway and Mrs. Darling in Peter Pan; opened the world premiere of The House in Town, directed by Doug Hughes at Lincoln Center; starred Off-Broadway in the first revival of Tovarich, the musical written for Vivien Leigh; starred in a movie for the Hallmark Channel, In the Foxhole; went to Florida with a dog named Sylvia; saved the world as Sabina in The Skin of Our Teeth; and tried to revamp the military in Defiance. She has also been poisoned by her husband in Hamlet and lost and finally won true love as Desiree in A Little Night Music. In between various other plays and concerts, Barbara has recorded dozens of audiobooks, including two of her recent favorites, Lawyer for the Dog and Lawyer for the Cat.
Barbara rang in the New Year at the Philadelphia Theatre Company with the beautiful musical Bridges of Madison County. The score and production are exquisite for this poignant love story.
Next month, Barbara will complete the second in the Haywire Bride series of audio books, with The Cowboy Meets His Match by Margaret Brownley  A Texas rancher of 1886 finds true grit in a mail order bride from Boston, in this sweet story about remaining true to your self, while finding true love.
Barbara spent Christmas as An American in Paris in lovely Hilton Head at the Arts Center of Coastal Carolina — a sunny, warm Christmas at the beach!
The daughter of a spy, Barbara grew up in the Washington, DC, area, until her passion for theatre compelled her to take a scholarship to study her beloved Shakespeare in England. Earlier ambitions of med school fled with her first professional production, as Liesl in The Sound of Music. She has since traveled the world, performing in concerts, plays, and films, and worked for over a decade with the Angel Fund, to save the African cheetah from extinction.
Barbara's home is NYC, with a beloved bungalow on the Delaware River in Pennsylvania, where she gardens recklessly, under the watchful eyes of her cat, Blu. Barbara is addicted to farmstands and cooks for therapy; throws herself into dance and yoga; and over the past 25 years has happily grown up as the voice of over 100 audiobooks. She is forever grateful for the support of her family, friends, and fans, who have kept her career vibrant and fulfilling.
While Barbara has opened many shows on and off Broadway, she is uniquely proud of her ability to open a bottle of Champagne in under 23 seconds. Cheers!